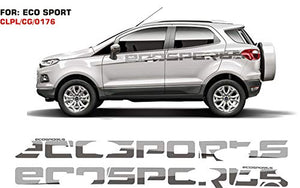 Brand: Automaze
Color: Red/Grey
Features:
Self adhesive, matte finished, vinyl based cut out decal
Long lasting, water proof, can be cleaned with damp cloth
Completely safe for your car paint. No damage or mark on removing
Set of 2 pc
We recommend professional installation of this item
Publisher: Quara
Details: Application Instructions
1.Take out the decals carefully from the container.
2.Place the decals on table before applying and check the left and right side properly. Ensure sticker is in appropriate position without any bubbles and overlapping also count number of pieces.
3.Clean the surface of your car with distilled water (please do not use ground or any hard water) to make it free of all dust & grease and wipe with a clean dry cloth.
4.Remove the paper from bottom of decals. Make sure you remove this gently.
5.Moist the decals with water from back side & paste it on the desired location.
6.When you are satisfied with the placement, apply the decals on surface with the help of squeeze and water.
7.Set the decals on the surface and once you are satisfied with the placement, apply the decals on surface of car.
8.Gently remove the protection tape. Make sure the decal does not get stretched.
Important Instructions
1. Professional installation is highly recommended for this product.
2.If there is moisture in air than heat air dryer is recommended on surface of vehicle (not on decals) to remove excess water from surface.
3.It is recommended to apply decals in Sunlight. This will make application easier.
4.Wipe with isopropyl alcohol or other residue-free cleaner. Do not use toluene it may spoil metallic paint top coat.
6.Dry the surface with clean, lint-free cloth before the cleaning solvent evaporates.
7. Do not wash your car for minimum 24 hrs after pasting.

Package Dimensions: 20.2 x 3.9 x 3.9 inches
Binding: Automotive