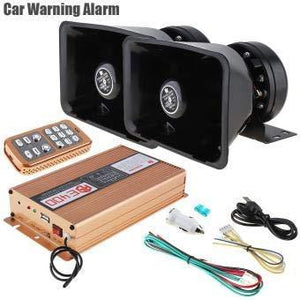 • AUDIO CLARITY AND AUDIBILITY - With an adequate power output of 400W and powerful speakers with a rating of 180-200 dB, you get quality audio output which is audible from a distance away.
• MULTIPLE OPERATION MODES - This warning system features more than 20 kinds multiple operation options which include Horn and Siren with the siren option giving you Ambassador, Air defense, Rescue, Police, Fire, and also Manual Horn & Manual Siren.
• It is equipped with PA system and can run two-channel 12V Led lights with easy light control on the remote. Alarm installation is simple, easy to operate, stable performance, strong power.
• It's suitable for police, fire, ambulance, traffic, engineer, volunteer, and private vehicle to use as a PA system or audio warning device
• Set of 2 Speaker